Double Retrospect is the name of the jigsaw puzzle that I am currently working.  It is 32,000 pieces and contains 32 pictures created by Keith Haring.  I first learned of the artist when I purchased Imaging the Word, a three volume arts and lectionary resource.  The books provide worship leaders with paintings, photos, poetry, liturgy, music and quotes that can add to any worship experience. 
The puzzle has helped me learn more about this very unique modern artist.  But it wasn't until I saw one of the pictures on Keith's website: www.haring.com, that I learned something new.  Below are two versions of the same picture.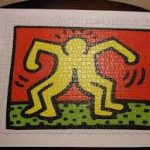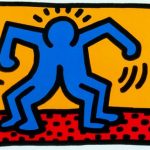 The one on the left is the original painting, from the www.haring.com website.  The image on the right is from the puzzle produced by Ravensburger.  It wasn't until I saw the color differentiation that I began to investigate why the puzzle company changed the picture.
This is what I learned.  In order for the Ravensburger company to make the puzzle more challenging, they changed the color scheme for each picture.  In addition to black and white, the other colors are blue, green, yellow, red, orange and pink.  As a result, very few of the pictures in the puzzle match the artist's original paintings.  And yet, each picture is distinctively a Keith Haring work.  And because there are only eight colors, the puzzle company prepackaged the pieces into 8 bags, containing approximately 4000 pieces each.
Maybe that's where the title "Double Retrospect" came from.  We are able to view images as they were first produced by the artist, and again by the creators of the puzzle.  In a way, I am glad that there are only eight colors.  But part of me wishes that I could've worked the puzzle with the colors chosen by Keith Haring.
I believe the authors of Matthew, Mark, Luke and John offered the early Christians, and us as well, their perspectives on the significance of Jesus' life, mission, ministry, death and resurrection.  Each telling of how Jesus touched the lives of so many, enriches our faith.  Whether or not you dedicate a portion of each day to reading the Bible, I encourage you to read all 4 Gospels on a regular basis.  What a rich tapestry the Gospels weave to help us see how amazing Jesus was and is.  Two offerings of the Beatitudes, three ways to reflect upon the Parable of the Sower, and four accounts of the Last Supper, Jesus' trial, crucifixion, death and Resurrection are only a few ways we discover God's amazing Son and our Savior.  I celebrate that the early church leaders made the decision to include each perspective in the Bible to help lay the foundation of our faith.  Ay we be blessed in the reading, the hearing and the living out of the Gospel message.  And Amen.